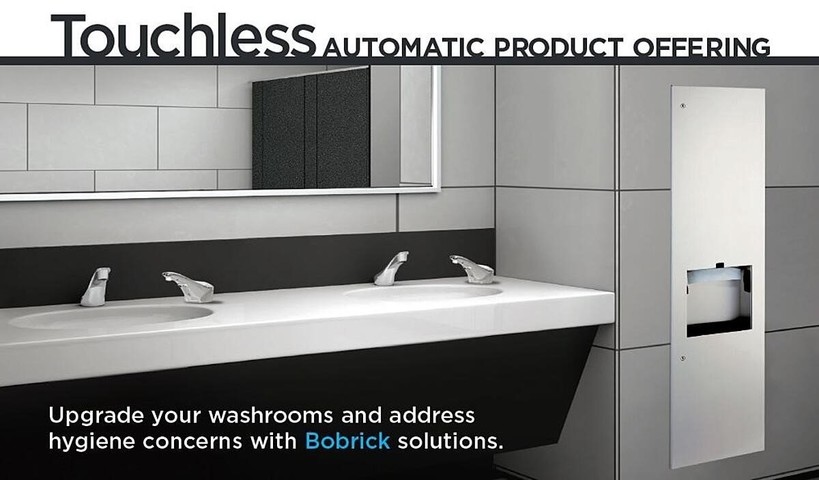 Create a More Hygienic Experience
Bobrick has a comprehensive range of touch free handwashing and drying solutions.
In today's environment, hygiene is top of mind. Washroom users and building owners are increasingly concerned about physical touchpoints in shared spaces.
As a design professional, you can help by specifying touchless products that also meet your design and operational objectives. Bobrick is here to support you with our touchless, automatic product offering:
Soap Dispensers: Choose from a range of counter-mounted, automatic dispensers that accommodate non-proprietary bulk soap, including the B-824 SureFlo™ Liquid Soap Dispenser. Or, turn to Bobrick's wall-mounted dispensers, which can dispense alcohol-based liquid, gel or foam hand sanitisers.
3-in-1 Unit: Our sleek, sophisticated B-38030 Recessed Paper Towel Dispenser, Automatic Hand Dryer and Waste Bin ensures hygiene by providing users with multiple hand drying options.
Hand Dryers:

Choose from a selection of hygienic, sustainably operating models, including the B-3725 Hands-in Recessed Hand Dryer, featuring an oversized drying alcove that prevents unsanitary water trails in the restroom.
Have a look at the full Touchless Brochure here. To specify, or for any queries, call us on 09 623 1699 or email info@zone.net.nz.

How to Specify the Right Hand Dryer
Many hand dryers tend to splash water onto the restroom floor, wall or even the patron. Not only are these puddles unhygienic, but also they can create serious fall hazards.
Choosing the right hand dryer can facilitate a range of benefits for facilities. It can be the finishing touch that ties together a restroom's high-end aesthetic, align with a facility's goal of being compliant and help create a healthy, hygienic environment. A great hand dryer choice can also facilitate significant long-term cost savings for the owner while reducing the impact of the restroom on the environment.
Every building project—and every restroom—has unique needs. Your hand dryer choice should reflect those needs and provide added value to the owner and ensure that the intent of your design in enduring.
Consider Owner, Building Type & Occupants
Each building type has unique requirements and needs that hand dryers can support. Before selecting a hand dryer, ask yourself:
What kind of building is it?
Who will be using it?
What kind of traffic must it serve?
Which benefits can best serve these goals? (i.e. noise level, hygiene or design)
Thus, building type can help you form a baseline for your hand dryer purchase. To understand more about smart hand dryer selection, please contact Zone to discuss further at info@zone.net.nz
B-635 Klutch Mobile Device Holder
Keeps mobile devices safe and secure.
Bobrick's new B-635 Klutch Mobile Device Holder keeps phones and mobile devices safe and secure. Featuring sleek design that complements any décor, Klutch's unique functionality provides modern convenience—easily installed in toilet cubicles or anywhere in the restroom hygienic storage is needed.
Features & Benefits
Convenient Design: Klutch features sleek, compact design that fits with any décor.
Secure: Patented cradle pivots to snugly "Klutch" expensive electronic devices.
Easy Installation: Easily installed in toilet compartments, common spaces or private areas where storage is desired.
Versatile: Integrated bag hook holds up to 300 lbs and can accommodate multiple items.
Compliant: Requires no grasping or twisting to use.
Acclaimed: Grand Prize Winner of BUILDINGS magazine's Product Innovations 2019 and winner at Architectural Products magazine's Product Innovation Awards 2019
To specify the product or request a demonstration, please call Tasi on 021 686 936 or fill in the contact form below.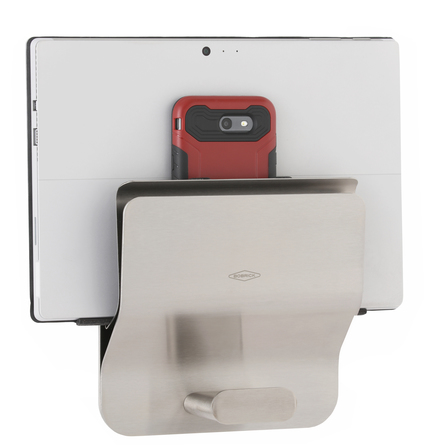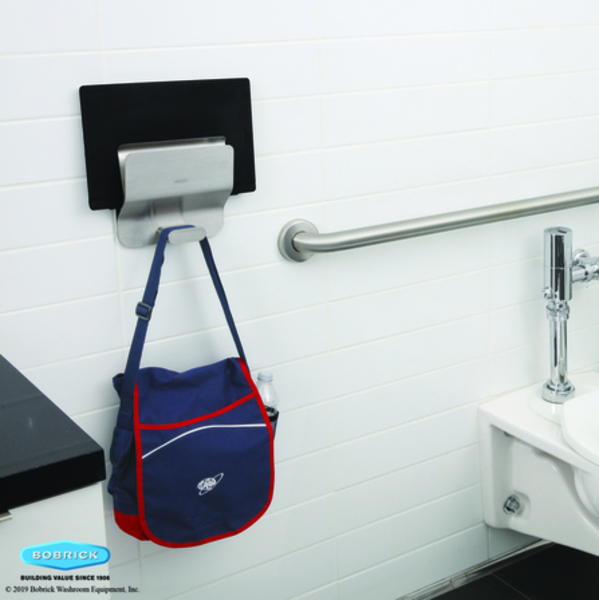 Balancing Costs & Authentic Sustainability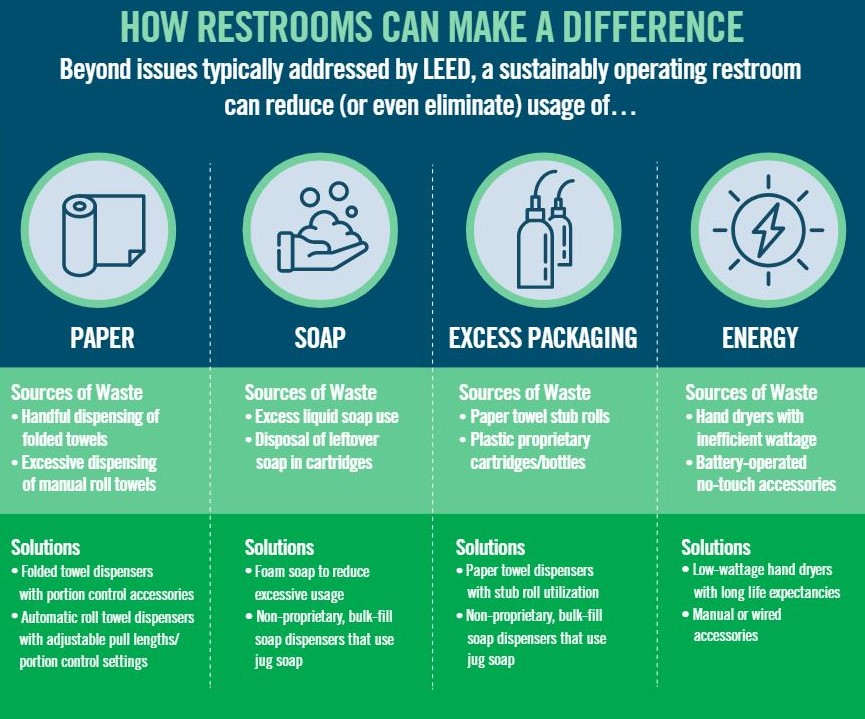 All buildings should be designed with sustainability in mind every step of the way. Not only is it friendlier to the environment, but sustainable operation is closely linked to economical operation and long-term business goals for the building owner.
A 2015 study showed a statistical link between tenant satisfaction and sustainability efforts involving cost savings from energy and other forms of conservation. In addition, a study conducted in 2017 revealed that nearly one in 10 millennials would quit their jobs if they found out their current employer was not sustainable. Working toward authentic sustainability isn't just good for the environment—it's good for business, too.
Communicating the Value of Sustainability

There is strong demand for sustainable restrooms, and to achieve authentic long-term sustainability, we must consider a variety of factors and solutions.
Understanding and communicating the operating value of each product, including measurable cost and resource savings, can be the deciding factor in choosing the correct product.

Zone and Bobrick have a range of resources to assist. Link to the cost savings calculator here for the B-823 Universal Manufal Soap Dispenser.
ZONE Architectural Products
41 Church Street, Onehunga
Auckland
Make an enquiry